WRECK IT RALPH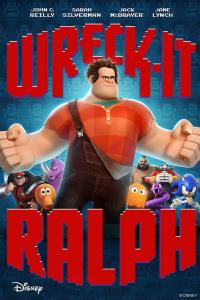 Rating
PG
Runtime
108 min
Release Year
2012
Synopsis
Wreck-It Ralph longs to be as beloved as his game's perfect Good Guy, Fix-It Felix. Problem is, nobody loves a Bad Guy. But they do love heroes... so when a modern, first-person shooter game arrives featuring tough-as-nails Sergeant Calhoun, Ralph sees it as his ticket to heroism and happiness. He sneaks into the game with a simple plan -- win a medal -- but soon wrecks everything, and accidentally unleashes a deadly enemy that threatens every game in the arcade. Ralph's only hope? Vanellope von Schweetz, a young troublemaking "glitch" from a candy-coated cart racing game who might just be the one to teach Ralph what it means to be a Good Guy.
Cast
John C. Reilly
Sarah Silverman
Jack McBrayer
Jane Lynch
Alan Tudyk
Ed O'Neill
Promotional Materials
To save materials to your computer:
Windows
Internet Explorer: Right-click on the link and choose "Save Target As"
Firefox and Chrome: Right-click on the link and choose "Save link as..."
Mac:
Hold down the option key and click on the link and choose "Save Image As"
Trailer