MONSTERS INC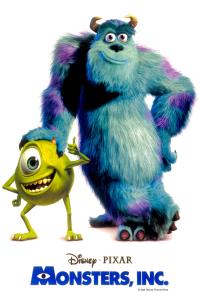 Rating
G
Runtime
92 min
Release Year
2001
Directors
Pete Docter
David Silverman
Lee Unkrich
Synopsis
This animated feature from the creators of Toy Story shows us the life behind the scenes of things that go bump in the night. The big, blue and fuzzy James P. Sullivan (Goodman) and his opinionated, one-eyed roommate Mike Wzowski (Crystal) are two professional "scare specialists" Their job is to harness the energy created when they make little kids scream. This energy is bottled and keeps their society going. When they accidentally let a young girl named Boo into their world behind the closets and under the beds, it throws their life into chaos. Boo finds out that the monsters are more scared of her than she is of them.
Cast
John Goodman
Billy Crystal
Mary Gibbs
Steve Buscemi
James Coburn
Jennifer Tilly
Promotional Materials
To save materials to your computer:
Windows
Internet Explorer: Right-click on the link and choose "Save Target As"
Firefox and Chrome: Right-click on the link and choose "Save link as..."
Mac:
Hold down the option key and click on the link and choose "Save Image As"
Trailer