Plan a Movie Event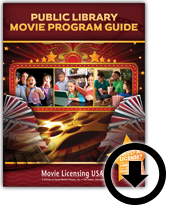 Download the
Plan a Movie Night Guide
Whether you are hosting programs for summer reading, teens, families or adults, you can be sure your patrons will enjoy the feature presentation while spending time in your library. Many of our customers speak of increased library patronage following a movie program as well as an increased sense of community and camaraderie.
Choose Your Program
Visit our programming ideas section to help guide the type of program you would like to incorporate into the library or use our advanced search tool and look at movies by genre.
Choose Your Movie
Visit our new releases section or use our movie search tool to choose a film for your event.
Obtain Your Public Performance Site License
Contact us to obtain your Public Performance Site License. If you already have one, continue planning your event!
Plan Your Event
Plan your movie program by using our helpful programming ideas section, or base your movie night on a theme.
Promote Your Event
Current customers have access to free publicity materials. You can create and print full-color bookmarks, event tickets and 8.5" x 11" movie posters to advertise in your library. Learn about advertising guidelines here.
Obtain Your Movie
Once you have obtained your Public Performance Site License, you may buy, borrow or rent your movie from any legal source such as a video store, online retailer or personal collection.
Have a Great Movie Event at Your Library!
Need Help?
Can't find what you're looking for? Visit our FAQ Page .